11 Questions To Ask When Hiring A Bookkeeper
Tue 9th Oct, 2012
Without sounding like alarmists, the fact is that hiring the wrong bookkeeper can destroy your business. Before choosing a company with whom to work, it is imperative to clearly define what you expect from your bookkeeper. Taylor & Moore recommends interviewing your potiential bookkeeper and/or BAS services (Agent) using the following questions, before you select a company to handle your accounting and bookkeeping needs.
1. What qualifications and professional memberships do you hold?
The Tax Agent Services Bill 2008 and as of 1st March 2010, this means that anyone providing BAS services for a fee will need to be a registered BAS agent. If your bookkeeper is processing BAS work, then this is something they should be transitioning towards.
At a minimum, your bookkeeper should have qualifications such as Certificate IV in Financial Services. Look for someone who is a member of one of the various professional bookkeeping associations in Australia such as The Institute of Certified Bookkeepers (ICB).
Reference: http://www.tpb.gov.au/TPB/legislation/Overview/TPB/Legislation/Legislation_overview.aspx
Both Taylor & Moore and Sharron Taylor are registered BAS Agents. Staff are also Certified IV qualified and/or BAS Agents.
2. What insurances do you have?
At a minimum, professional indemnity insurance is desirable. However, a registered BAS Agent must have professional indemnity.
Reference: http://www.tpb.gov.au/TPB/BAS_agents/Professional_indemnity_insurance/TPB/Subsidiary_Content/Professional_indemnity_insurance.aspx
As Taylor & Moore is a registered BAS Agent, they have the required insurance.
3. Who will undertake the data entry and BAS preparation?
Establish whether the work will be consistently undertaken by the same bookkeeper or by any member of the team and whether the work will be reviewed.
Taylor & Moore is strictly a bookkeeping organisation and has earned a reputation for using the right combination of people skills and technology to provide professional bookkeeping, BAS, payroll services, support and training.
4. Is the company a full time business or a single personal organisation? Do they employ support staff?
Depending on your needs, you'll either be comfortable with someone who is only available part-time or you'll need someone who is committed to providing bookkeeping services full-time.
At Taylor & Moore we have an infrastructure of staff so that you are not left in chaos if your BAS Agent/Bookkeeper gets sick or takes a holiday. You can rest assured that we will always be available.
5. What experience / references do you have?
References may not always be reliable, but it is worth taking the effort to do a little research before hiring a bookkeeper. Many websites offer independent reviews of professional services.
Taylor & Moore is happy to provide any prospective client with contact information for current clients who will be more than happy to provide you with feedback on their experience in working with us. In contacting referrals from bookkeepers, you may want to ask:
How long have you been working with your bookkeeper service?
Does the company complete the work accurately and on time?
What value-added services do they provide?
If unavailable when you call, do they get back to you in a timely manner?
Are you able to reach them 90% of the time?
6. If the work is done in an accounting package, who retains the ownership of the datafile?
Many bookkeeping organisations will process the work on their own datafile, which will save you the expense of purchasing the software upfront. If at a future date you wish to bring the bookkeeping in-house, some bookkeepers charge the transfer of ownership a nominal fee; for example a MYOB datafile transfer costs $25.
At Taylor & Moore we are happy to transfer your file (once your account is paid up to date) and do not charge any transfer fee.
7. Where will the work be done?
Will the bookkeeper work onsite, offsite, or remotely?
At Taylor & Moore we offer onsite, offsite & cloud bookkeeping, BAS & Payroll services.
8. Who will be responsible for rectification work?
Mistakes may date back years; corrections can be costly exercises, involving re-keying data, reworking BAS, and reviewing end-of-year financial statements. Will the bookkeeping work be redone free of charge or will the charges be reimbursed?
At Taylor & Moore we live by the philosophy of doing it right the first time. However, should the correction needed be our mistake then this will be rectified at no cost to the client. If it's the client's mistake then this will be charged.
9. What does the bookkeeper require to process the work?
Before hiring a bookkeeper establish what your bookkeeper will need from you on a regular basis. Do they want the receipts sorted? Are you required to write account codes or explanations on the receipts?
At Taylor & Moore, as this differs from client to client depending on the level of service they require from us. This is something we discuss at our initial consultation.
10. How will the bookkeeper communicate with your accountant?
Unfortunately there are instances where the business tax accountant treats the bookkeeper in a derogatory fashion and open lines of communication suffer.
When this happens you suffer too, so you need to establish how the bookkeeper will communicate with the accountant, and how the accountant will charge you. It is strongly recommended that you introduce your bookkeeper to your accountant, and to encourage a professional relationship between them.
At Taylor & Moore we work closely with you and your accountant to ensure that your books are up-to-date and systems are in place. We do not offer accounting or tax services therefore we do not compete with your accountant. We complement your accountant's services, and create efficiencies which should reflect in reduced costs due to our efficient bookkeeping service.
We are happy to work with your accountant or we can refer one to you.
Pelase visit our testimonials page to read what some of the accountants we work with have to say about us.
10. What will it cost?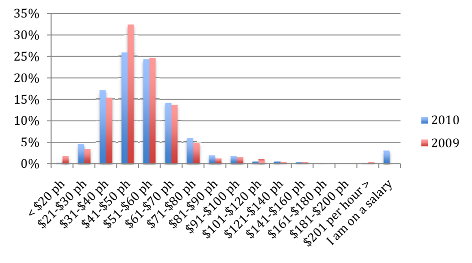 Taken from the ICB March 2011 Newsletter — 09/10 Bookkkeeper comparison survey.
It is noted that experienced, competent, systemised and professional bookkeepers provide services typically in a far more efficient manner resulting in client books being processed & completed in less time.
Personally we like the saying "if you pay peanuts you get monkeys" so choose wisely.
Once you have found your bookkeeper don't simply outsource and ignore. You need to look at your management reports on a timely basis and incorporate them into your decision-making processes.